This is unbelievably fantastic!
The bull market turns 3,454 days old on Thursday and that set a record for the longest period of uninterrupted gains in American history. The remarkable run began on March 9, 2009, in the ashes of the Great Recession and the scariest financial crisissince the Great Depression in the 1930s. At the time the S&P 500 was at 676 points, hard hit by the Great Recession.
So what exactly is a bull market? It is a financial market of a group of securities in which prices are rising or are expected to rise. The term "bull market" is most often used to refer to the stock market but can be applied to anything that is traded, such as bonds, currencies, and commodities. Investors willingly participate in a bull market in the hope of obtaining a profit. Bull markets often lead to the overvaluation of the stocks as the investors tend to become overly optimistic, believing the stock will always go up.
The opposite of a bull market is what is known as a bear market, typically characterized by a bad economy, fewer jobs, recession and falling share prices. Essentially, the decline in stock market prices shakes investor confidence, which causes investors to keep their money out of the market, which in turn, causes the decline in the stock market.
When the bull market began in March of 2009, the S&P 500 was at 676 points, hard hit by the Great Recession. Now as Fox News reports, some "nine-and-a-half years later, and the S&P 500 has rallied about 323 percent. The tech-heavy Nasdaq Composite has been the biggest winner, with a 611 percent gain, a clear testament to the strength of the tech sector. The Dow Jones Industrial Average has appreciated about 300 percent.
"What does this mean for investors? For those who invested when the market was at or near the bottom, their pocketbooks should be heavier. While the S&P 500 gained about 323 percent, the biggest gainers among current S&P 500 constituent stocks saw far larger gains. Top-ranked GGP returned over 7,000 percent, so far, in this bull run."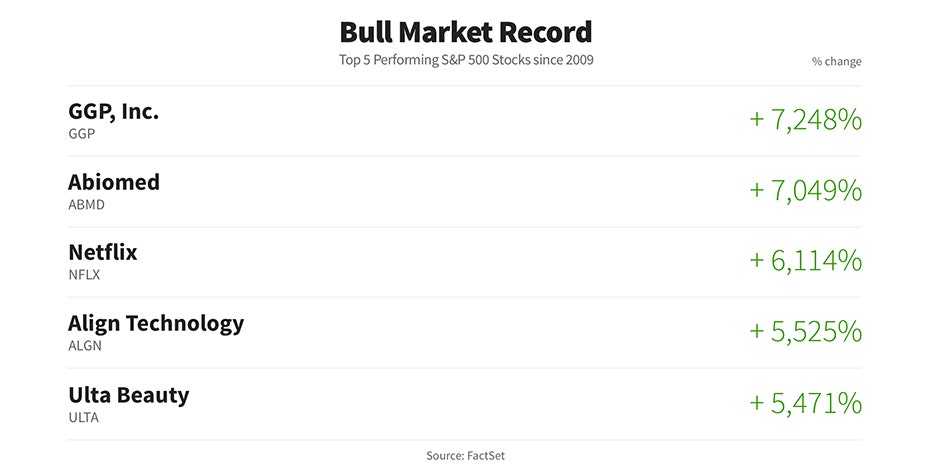 "A look at the biggest losers paints a different picture. Over the period, the stock that experienced the biggest decline was Mosaic Co., whose shares fell 27 percent."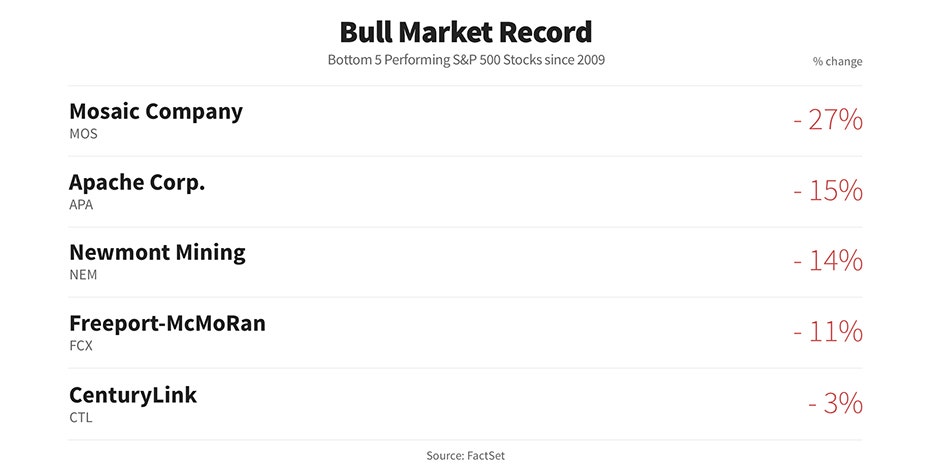 The recession that hit caused nervous consumers to crimp spending, but in this bull run, there has been a major behavior shift. As it has continued, consumers have become more confident and as consumers have opened their purse strings, consumer-focused companies have benefited. So far in this rally, consumer discretionary, goods and services that are non-essential but desired by consumers if they have the disposable income, have led the performance.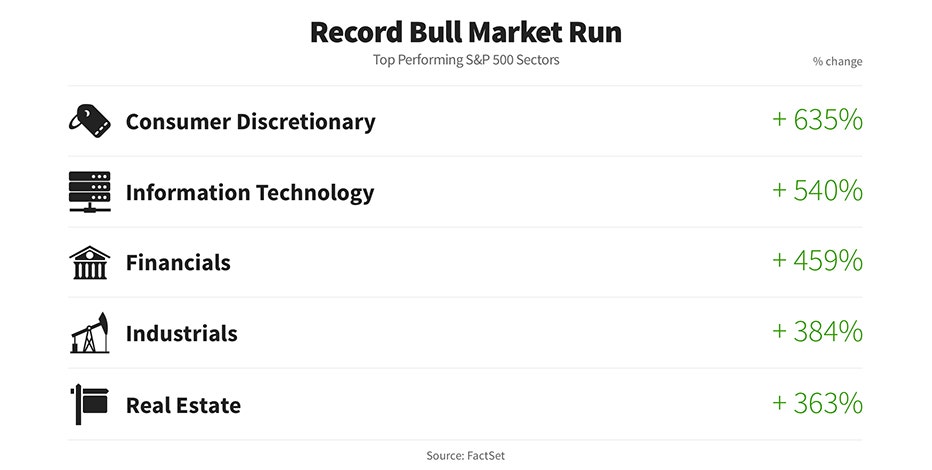 What happens from here? As the bull market has aged there have been some concerns that it would run out of steam. But, many believe it has plenty of room to run. Consumer spending makes up about two-thirds of U.S. economic growth, and economic data shows that consumers are confident in their finances. Just on Wednesday, when discussing the latest quarterly results, Target's CEO Brian Cornell said, "We're currently benefiting from a very strong consumer environment — perhaps the strongest I've seen in my career.
"Companies have been particularly positive about tax reform, which President Trump signed into law in late 2017.
"As the bull market has aged, some have grown concerned that it's only a matter of time until its momentum runs out. During an interview with FOX Business' Neil Cavuto, Peter Eliades, editor of Stockmarket Cycles, said bear market indicators are evident in the markets, adding that he'd be "amazed" if the market moves above its current position 10 years from now. Other market experts are much more positive. Jeff Carbone, a managing partner at Cornerstone Wealth, said in a statement, "While this bull may be showing some age, we still think there is plenty of room to run, and that stocks will again set all-time highs later this year.'"
Zero Hedge reports on the bull market, stating: "it still has room to run in terms of percentage appreciation: from its March 2009 low, the current level of the S&P is 321% higher; it will need to gain another 4% to surpass the Great Depression bull market of June 1932 – March 1937 which saw a 325% rebound. To become the greatest bull market ever in percentage terms, the S&P will need to gain nearly another 100% from here, to surpass the 417% increase posted in the October 1990 – March 2000 market, which culminated with the dot-com bubble.
"Breaking down the bull market by sector shows that huge gains for companies such as Amazon and Apple helped propel the outperformance of the consumer discretionary and technology sectors.
"How about valuation? As shown in the first chart below, stocks recently were the most expensive on record relative to their long-term average of 15.1 on a forward basis and 17.2 on a trailing basis. However, the recent Trump tax-cut inspired burst in corporate profits helped pulled valuations back towards the norm. The question, of course, is whether the current global trade war (or any other black swan event) will make a mockery of projections. One possible such "unexpected event" is a spike in yields: as the second chart below shows, stocks have been supported throughout the run by Fed policy which kept interest rates low, permitting corporations to engage in a record amount of buybacks. The recent modest rise in yields, coupled with a spike in market volatility, helped to cause a recent market correction."